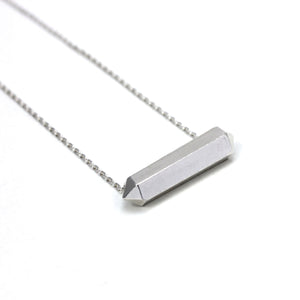 Hexagonal Silver Floating Bar Necklace
Sale price Price £70.00 Regular price £64.50
Tax included.
This shape is actually an elongated hexagonal dipyramid.
Hexagonal shapes or six as a numerological meaning often suggests balance, communication and union.
This six-sided geometric bar of solid silver looks as if it is floating off the chain and sits on the collar bone. On a 16" chain with a 1 1/2" extension and the EMH tag.