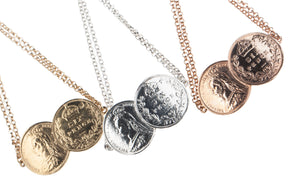 Victorian Double Sixpence Bracelet
Sale price Price £70.00 Regular price £52.50
Tax included.
This bracelet was designed to join the double sixpence family that is growing at EMH.
Originally inspired by the Victorian tradition for giving a sixpence to the bride on her wedding day, at Emily Margaret Hill we thought why not have luck every day? Sixpences are supposed to bring wealth and good health and are should be passed down as an heirloom.
Two cast silver Victorian sixpences from 1888, one facing each way are attached to a double chain matching the necklace. With a 1 1/2" extension.