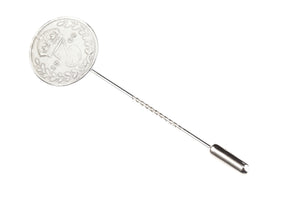 Victorian Silver Threepence Lapel/Hat Pin
Sale price Price £42.00 Regular price £33.75
Tax included.
A dainty lapel pin, perfect detail for a smart occasion. Can be fed through the lapel and back again to show the pin protector or hidden as we have shown it modelled here on a suit. Can also be worn as a hat pin.
Threepence's have always been linked to superstition, spiritualism and luck.
They have been placed in puddings for centuries with the idea that the person who finds the coin in their portion shall leave luck and prosperity.
This threep0ence is from 1900, just at the end of Victoria's reign and is very delicate and detailed.