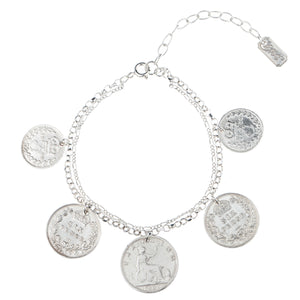 Victorian Five Coin Bracelet
Sale price Price £125.00 Regular price £108.75
Tax included.
For those who can't get enough luck!

A bracelet featuring the three Victorian coins from the Lucky Coin collection.
One penny farthing, which is lucky to find or be given, especially a damaged or dented.
Two 1888 sixpences, which are supposed to bring wealth and good health and should be passed down as an heirloom. 
Two delicate 1900 threepences, which have always been linked to superstition and spiritualism. They have traditionally been given for the birth of a new child, for both prosperity and good luck. 
The bracelet features a 1 1/2" extension chain, finished with an EMH gold or silver tag.