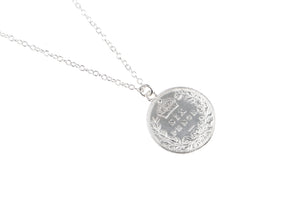 1967 50th Birthday Victorian Silver Sixpence Charm
Sale price Price £25.00 Regular price
Tax included.
Perfect milestone gift to celebrate a 50th birthday...
This charm was originally inspired by the Victorian tradition for giving a sixpence to the bride on her wedding day. At Emily Margaret Hill we thought why not have luck every day? Sixpences are supposed to bring wealth and good health and should be passed down as an heirloom.
The charm can be layered with others to make a personal piece of jewellery, why not look at the others that we have available.