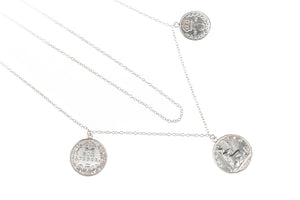 Victorian Triple Lucky Coin Necklace
Sale price Price £89.00 Regular price £71.25
Tax included.
Layer up the luck!
Sixpences are supposed to bring wealth, good health and should be passed down as an heirloom.
A penny farthing is lucky to find or be given, especially a damaged or dented.
The threepence has always been linked to superstition and spiritualism. They have traditionally been given for the birth of a new child, for both prosperity and good luck.
These three solid silver coins sit on a double chain attached to a 1 1/2" extension to create an elegant and layered look.